Flip Book Photo Album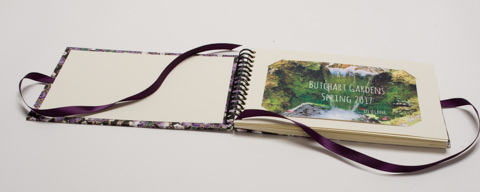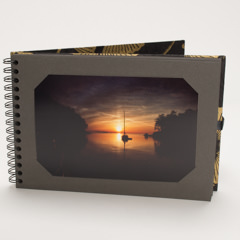 With a size of 7 3/4" by 5 1/2", our smallest album is perfect for 4x6 photos. We cut notches in the pages to hold the photo by its four corners - so no photo corners or other mounting method is required. You simply insert the corners of your photos through the cut slits in the page, and the photo is mounted!
The book is bound using a metal spiral so the cover and pages can open and flip around. With 12 pages, each holds one photo - enough for pictures of the family (with room for the family pet,) or a selection of favorite photos from your vacation or event.
The album covers are of a heavy board that we cover with the same beautiful paper we use for our other books and albums. Color matched ribbons attached to both front and back cover hold the album closed, and also help the book stand up when it is used as a photo frame.
The pages are available either in our natural white textured heavy photo album paper, or in a charcoal gray paper. Both are archival and acid free and will not damage your photos over time.
You can show off pictures either in landscape or portrait by using the covers as a stand. Tie the ribbons to keep the covers together and the album will stand either sideways for landscape photos or upright for portrait pictures.
This is a simple but beautiful album and a nice gift.
Like all our books, we make this by hand in our studio in Nordland.